Titl : ' 三点の火 / Fire of three points ', ' 芯 / Wick ' 
- 詳細 / Details
' 三点の火 / Fire of three points ', : Watercolours, ink on paper, Size: (H) 364 × (W) 257 mm 2016
' 芯 / Wick ', : Watercolours, ink on paper, Size: (H) 364 × (W) 257 mm 2016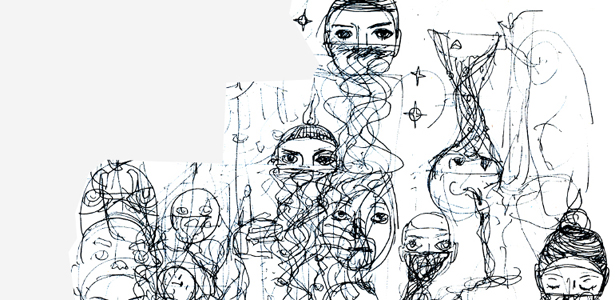 ' 三点の火 '
■ 火と生命のイメージを重ねた小作品連作。 子供の頃読んだ楳図かずおのマンガを思い出す。詳細は覚えていないが、主人公があるとき人の寿命が燃える蝋燭の大きさとして人物の頭上に見えてしまうという能力を得てしまい、それ故に苦悩するといった内容だったと思う。
このモノクロ連作では特に寿命についてはテーマに入れていませんが、 ' 三点の火 ' では人物の
露出を極力抑え, 暗闇に浮かび上がる3点の火が際立つようにしました。
背景はペンのタッチで闇の微妙なトーンを表現し、闇に浮かび上がる火に生命の強さと儚さの象徴として重ね合わせています。 
' Fire of three points '
■ The small series suggests dual images fire and life. These pieces remind me that Kazuo Umezu's psycho manga story. The story is that the boy suddenly has got strange ability to capture human's life time as an image of burnig candle above person's head. Therefore he has got fear and anguish for death. These mono-colour works do not particularly focus into length of life, and ' Fire of three points ' prevents to present the woman's portrait as much as possible and emphasizes three fire in darkness.
About the background is expressed subtle dark tone by pen, and synchronize symbol of stability and fragile of life.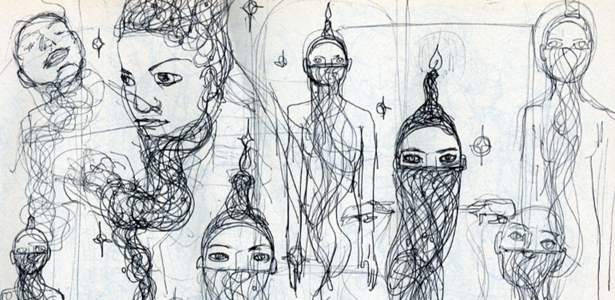 ' 芯 '
■ 連作の2作目。前作の人物は女性に、2作目は男性として設定した。両作品とも人物は中性的な印象。
本作では人物に取り巻く抽象形体を動的な心理と身体の動きとして表現しました。
それに対して頭上の静止した1点の火は内的な静を象徴しています。
' Wicks '
■ The second work of this series. I defined that the portrait in the first one is a man and this one is a woman. They are quite androgynous.
The abstract shapes around him are expressed as active movement of his mind and body. And the other hand the still fire overhead is symbolized internal silence.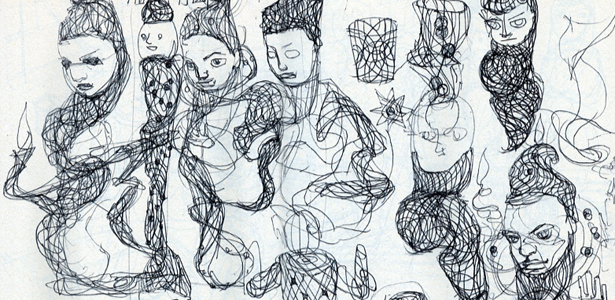 Copyright © Hidetoshi Yamada. all right reserved. -