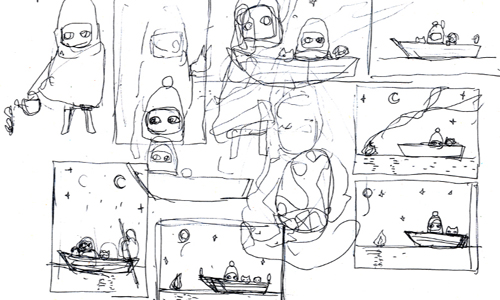 ' ガンジス / Ganges ' - スケッチ  Sketch
■ 2014年に開始した木版画二作目の原画スケッチになります。
しばらく大型のタブロー作成が続いたため、再度木版画を試みる。前回の木版画作成から2年ぶりの木版のため、シンプルな線画の図案にし感覚を慣らすことにした。版画作品には木版の独特な線の味が出ることを期待した。絵柄は月夜にガンジス川を渡る少年と動物たちです。遠くに浮かぶ焚火と煙ははガートの荼毘を表現しています。

■ This is the original drawing of my second woodblock print since 2014.
I restarted woodblock print in 2016, because I had focused to paint large size work for a while. It is a simple line drawing easy to get back sense of woodblock.
I expected woodblock to express typical wood texture line. The image is the scene that a boy and small animals drift over the Ganges. Fire and smoke indicate cremation at gat.
Copyright © Hidetoshi Yamada. all right reserved. -