Titl : ' 少年と猫 / Boy and cat ' 
詳細 / Details
Watercolours, ink on paper, Size: (H) 364 × (W) 257 mm
2016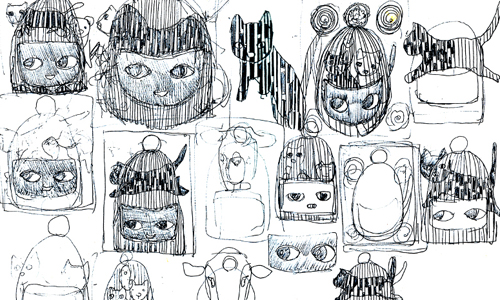 ' 少年と猫 ' - スケッチ
■ ' 少年と牛 ' のシリーズからシルクスクリーン用の原画に大胆に輪郭と少年の瞳をを抽出してデザイン化。今回は少年と猫のモチーフに変更し、少年の頭部と透かしとして構成させました。
頭部全体を覆うニット帽はインドで幼児がよく被っていたのが印象的だったので、度々好んで描いています。現在のところシルクスクリーン製版には至っていません。
' Boy and cat ' - Sketches
■ This is the extension work of ' Boy and Cow ' for screen print, which was extracted enlarging the outline and eyes from the boy.
I changed a cat in this work, which is synchronized the head of boy as watermark.
And according my experiences in India, I have seen quite many children wear knit hat. That becomes one of my favorite theme since then.
This work has not printed yet.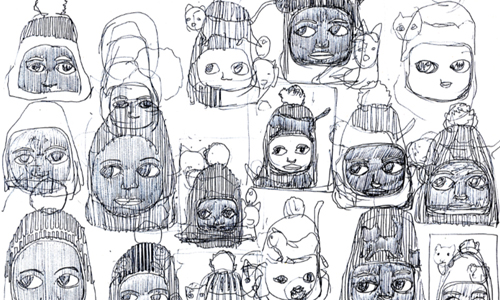 Copyright © Hidetoshi Yamada. all right reserved. -