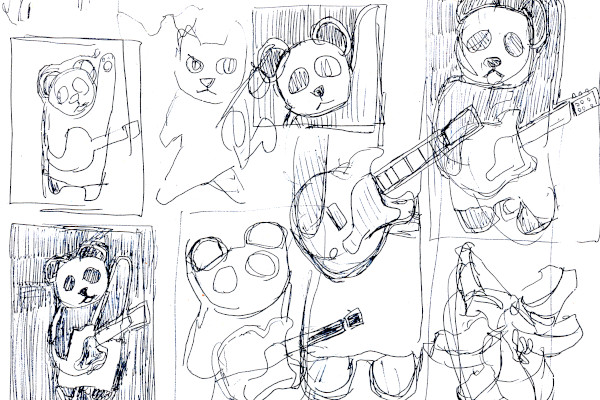 ' パン太ロック 2016 - スケッチ / Panta Rock 2016 - Sketch '
■ 同シリーズの木版画用、小品原画。
2011年作のパン太はフライングVのマイケル・シェンカーモデルを配すしたが、今回の小品はレスポール・ジュニア TV モデルを配置した。同モデルはパンクのミュージシャンに愛用されることからパンクを想起させる絵柄を期待した。

■ This is the small drawing of the guitar series for woodblock prints. The previous work Panta Rock 2011 version plays Michael Schenker Flying-V model. And this small Panta plays LesPaul Jr. TV type which is used many Punk rock musicians, thus this drawing is expecting to remind us quite Punk atmosphere.
Copyright © Hidetoshi Yamada. all right reserved. -