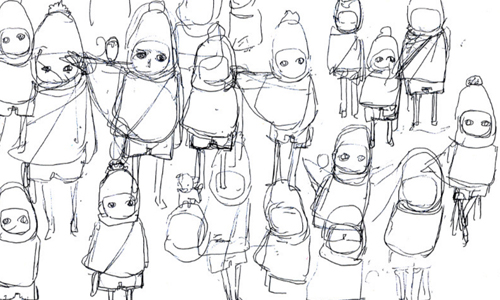 ' 少年 ' - スケッチ
■ 前作 ' 少年と猫 ' から少年の全体像を主題にした作品。モデルになるのはインドや
ビルマの厳しい自然環境で農業に従事する少年象。ややキャラクター化した像からは悲壮感は無いが細い脚からはその生活状況を感じることが出来る。インドなどでは特に低所得層は一枚綿の布から腰巻やショールとして有効利用しているのが印象的だった。
もともとこの後続く油彩タブロー ' 少年と牛、荒野 ' の制作を予定していたので、
その少年象の習作も兼ねています。
少年の周りには人の生活に馴染み深い動物を配置。花はインド亜大陸の乾いた大地を象徴しています。
' Boy ' - Sketches
■ This work focus into the portrait of boy from the last work ' Boy & Cat '.
The background of a boy is a farmer family in severe climate like India and Burma. The appearance of boy is quite characterized instead of pessimistic, but his thin legs indicate his living condition. And I captured particularly low-incom people in India, use one piece of cotton fabric for many ways as a lungi or shawl, sleeping bag. This work is also drawn as the study for the next oil painting ' Boy & Cow – Wildness '.
The small animals around a boy are intimate for human life. A flower is symbolized dry ground of the Indian subcontinent.
Copyright © Hidetoshi Yamada. all right reserved. -